Fine Ceramics (also known as "advanced ceramics") possess high levels of chemical stability. As a result, Fine Ceramic materials are highly resistant to chemical corrosion.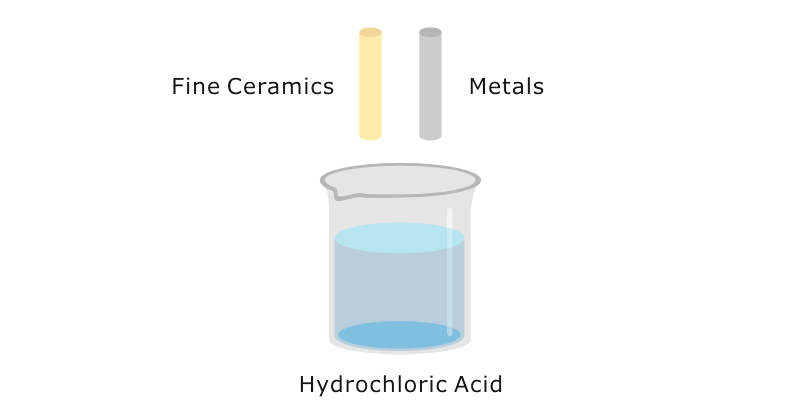 Watch this video to learn about the Chemical Resistant properties of Fine Ceramics
---
Applications: Valves, devices and pump components for fluid handling and chemical processing applications in chemicals factories; Fine Ceramic scissors.
Description
Chemical Resistance
Even the strongest materials may have their potential range of applications limited if they are susceptible to erosion by chemicals. Alumina and silicon carbide substances found in fine ceramics have particularly high resistance to chemicals (low chemical solubility) and will not change shape if soaked in an acid or alkali solution.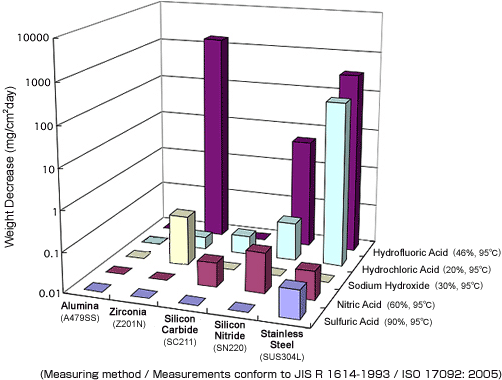 For more information, please see Excerpt of Graph Values.
The term "Fine Ceramics" is interchangeable with "advanced ceramics," "technical ceramics" and "engineered ceramics." Use varies by region and industry.
People who read this page also read.
If you want to use ceramics in business, click here.
Kyocera's Fine Ceramics products (All websites below open in a separate window.)
Product Category
Search by Material
Search by Property/Characteristic